Serving Investment Advisers Since 2005
RIA in a Box® provides the leading compliance solution for investment advisers. We put the client first by delivering innovative software and expert advice. Since 2005 we take pride in partnering with our clients to establish and support the highest quality registered investment adviser ("RIA") firms in the country.
We've helped over 4,000 investment advisers start an RIA firm and also provide ongoing monthly compliance assistance to over 2,000 SEC and state-registered RIA firms across the country.
Beyond RIA registration and compliance services, we often assist investment advisers with broader business decisions such as custodian and technology selection and many other considerations related to being an independent investment adviser.
Contact us today to see how we can assist with your RIA registration and compliance.
Company Retreat 2018 #RIABTogether
2005
RIA in a Box LLC was founded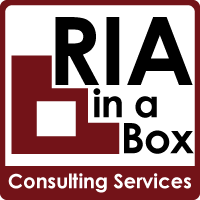 2010
Opened our corporate headquarters in New York, NY
2011
Launched our new ongoing monthly support service offerings to
help RIAs better stay on top of their monthly compliance tasks.


Hired our first former regulator to expand our expertise.
2013
Launched the first edition of MyRIACompliance®

Opened our Cleveland, OH office to accommodate our growing staff.
2014
Officially registered over 2,000 RIA firms
2015
Launched our Client Success Program to better ensure our clients
receive the most from our service offerings

Expanded to 25 employees
2016
Released our updated MyRIACompliance® software with new features including a multi-user platform.

Officially assisting over 1,300 RIA firms with compliance.
2017
Officially assisting over 1,600 firms with compliance
2018
Launched Employee Trade Monitoring Platform ("ETM")
Expanded to 45 employees
2019
Launched our RIA Cybersecurity Platform

Acquired Gordian Compliance Solutions

Opened a new office in Cleveland, OH
2020
Launched the MyRIACompliance®

Mobile App and Private Fund Compliance Platform
Officially helped over 4,000 advisers start an RIA firm
Officially provide ongoing compliance assistance to over 2,000 SEC and state-registered RIA firms
2021
Acquired Itegria, LLC

Launched our RIA Communications Archiving and Review Platform

Expanded to 100+ employees

Launched Adviser Virtual Desktop and Cybersecurity Dashboard